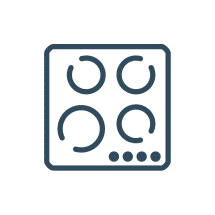 Cooktop & Stove Repair Service
The Best Appliance Repair in London and GTA for Cooktops, Stoves & Parts.
Warranty on Parts & Labor
100% Customer Satisfaction
Cooktop & Stove Repair
---
Is your stove giving you trouble? Don't endure the inconvenience of a malfunctioning cooktop. Trust the experts at Appliance Repair Service London to provide swift and efficient stove repair solutions. Our team of certified technicians is well-versed in repairing cooktops from all manufacturers, whether it's gas, electric, or induction.
When your cooktop is on the fritz, we're here to diagnose and repair the issue promptly. Whether it's a faulty element, glass or hinge problems, wiring issues, or damaged seals, our technicians have the knowledge and tools to address the problem. We're dedicated to restoring your cooktop's functionality quickly and effectively. Contact us for Stove Repair London Service.
We boast the expertise to repair various makes and models of cooktops. Our technicians are familiar with the intricacies of each cooktop model on the market. When we complete the repair, we'll follow up to ensure your appliance is performing optimally. We pride ourselves on making and keeping promises, ensuring top-notch service every time.
We've encountered a wide array of cooktop issues and resolved them all. But we're not limited to just cooktops; we also provide comprehensive appliance repair services. When we arrive at your home or business, we arrive equipped with the necessary parts to address all your appliance problems, setting the gold standard in turnaround times.
Schedule your stove repair appointment now through our user-friendly online scheduling system or call us directly at  (226) 271-4937. Our knowledgeable and friendly customer support professionals are ready to guide you through our cooktop and stove repair services. Don't let a malfunctioning stove disrupt your daily life – Contact us for Stove Repair London Service.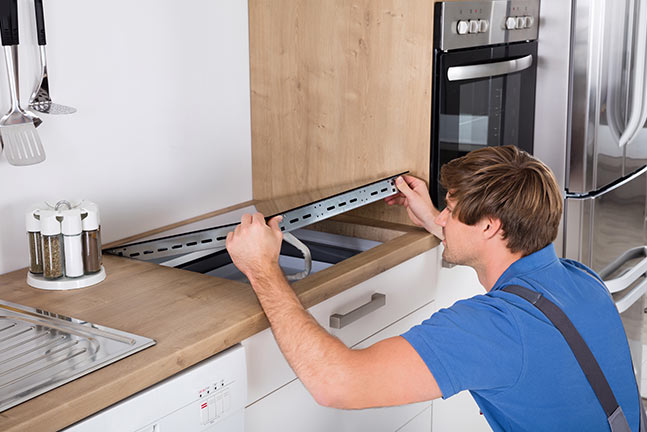 What qualities should a stove repair technician possess?
Electric stoves often pose complex issues, especially with heating elements, which can be dangerous to tackle on your own. It's advisable to leave these repairs to professionals who understand electrical circuits and fuse replacement.
Professional repair services can restore older stoves to a high standard, saving you money compared to buying a new one. When seeking a reliable service, consider these factors:
Affordability:

Established stove repair services often provide competitive pricing, and you can save even more by exploring discounts and special offers.

Experience:

Look for companies with a strong reputation and experienced technicians who can quickly and reliably handle various appliance repairs.

Warranty:

Choose services that offer warranties on parts, fixtures, and workmanship to ensure your satisfaction and free follow-up repairs if needed.

High-Quality:

Exceptional service providers offer customized solutions tailored to your needs, saving you time and money while ensuring efficient and timely repairs.
Our team of certified technicians is equipped with the knowledge and skills to diagnose and fix a wide range of problems that can affect your cooktop or stove's performance. We understand the importance of these appliances in your daily life and aim to provide prompt, efficient, and cost-effective solutions to get your kitchen back in order. Contact us for Stove Repair London Service.
Common Cooktop and Stove Problems:
Uneven Heating:

Is your cooktop failing to heat evenly, causing unevenly cooked meals?

Burner Issues:

Are individual burners failing to ignite or stay lit?

Temperature Control Problems:

Is it challenging to maintain the desired cooking temperature?

Electrical Malfunctions:

Are you facing problems with the electrical components of your cooktop or stove?

Gas Leak Concerns:

Are you worried about potential gas leaks or unusual odors?

Ignition Troubles:

Is your stove's ignition system not functioning correctly?

Broken Elements:

Do you have damaged heating elements that need replacement?

Faulty Controls:

Are the control knobs or buttons malfunctioning, making it difficult to set the desired settings?

Inconsistent Flames:

Are you experiencing issues with inconsistent flame sizes on gas stoves?

Strange Noises:

Is your appliance making unusual or disruptive sounds during operation?
Whether it's an electrical hiccup, a gas-related concern, or a temperature control problem, our expert technicians are well-prepared to tackle these issues promptly.
At
Appliance Repair Service
London, we're not just in the business of fixing appliances; we're in the business of making your life easier. Your kitchen deserves the best, and that's what we aim to provide. Trust us to bring your cooktop or stove back to its full glory, ensuring you can cook with confidence once again. Contact us today for reliable, efficient, and affordable cooktop and stove repair services in London. Your culinary adventures are in safe hands with ARS London.

Contact us for Stove Repair London Service.
Read our reviews on HomeStars, like us on Facebook and don't forget to share this page, just click on one of the links below.
👇
Reviews from Our Customers
Fast and easy service. Thanks!
Prompt communication, work started and finished in time. Great end to end service. Will take services again.
Fast and easy to deal with.. fixed properly
We had an issue with our LG oven - not heating properly. The technician arrived on time, knew exactly what the issue was within 5 minutes and promptly fixed the problem. He was pleasant and knowledgeable and also gave me tips on how to prevent it from happening again. I would strongly recommend this company - very efficient!
ARS repaired our refrigerator. They were very professional and cooperative. They were also helpful in working with the manufacturer in resolving the out of warranty issue. We would like to acknowledge Ghila Birman for her excellent customer service.