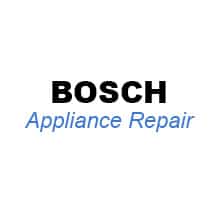 Bosch Appliance Repair In London, Ontario
---
Do you Need Repair for your Broken Bosch Appliance?
Bosch appliances are known for producing some of the best quality of appliances for home use. You can trust in the efficiency of the refrigerators, washers, and dryers produced by a top-of-the-range brand as Bosch.
If you own a Bosch device and you are based in London, Ontario, you can reach out to our professional repair brand if any of your household appliance malfunctions. Our brand; the ARS Appliance Repair service have been approved by Bosch to carry out a plethora of repairs if their products are faulty. Some of the repair services we offer are;
Bosch Refrigerator Repair
Our ARS Appliance group are responsible for fixing any faults that might affect the effective running of your Bosch fridge. Our years of experience makes us able to troubleshoot any problem that might affect your cooling product. These are some of the issues we diagnose;
Compromised Ice dispenser
Faulty water dispenser
Faulty lights
Poor draining
Difficulty in defrosting
Poor cooling
Strange sounds
Bosch Freezer Repair
If your Bosch freezer or freshbox has suddenly stopped working, we can help alleviate the burden. All you have to do is reach out to our ARS Bosch Appliance Repair group. We are always prepared to fix any problem that might affect your Bosch cooling devices. These are some of the problems we handle;
Accumulated frost on the freezer's coil
Warmth inside the freezer
Abnormal sounds
Failure to freeze
Increased buildup of frost
Faulty freezer door
Damaged lights
Bosch Washer Repair
Our highly skilled ARS Appliance Repair group will effectively troubleshoot and fix any setback that might stop the function of your Bosch washer. When your washer breaks down, it can be quite difficult to keep your clothes clean. This is why you need us, especially if you are based in London, Ontario. Some of the challenges fixed by our expert technicians are;
Leaking of the washer
Inability of the washer to fill properly
Failure to turn on
Unusual noises
Failure to run through cycles
Errors on the digital display
Failure of the washer to spin
Broken washer door
Leaky ducts
Poor drainage
Leaking of the washer
Bosch Dryer Repair
The ARS Appliance Repair experts are responsible for fixing any problem that might have stopped your Bosch dryer from working. Owners of faulty Bosch dryers can reach out to ARS Appliance Repair services to assist in diagnosing a problem and fixing it. The topnotch Bosch- certified company offers solution for faults such as;
Poor heating
Unusual noise
Inability to start
Damp clothing after a drying cycle
Inability of the dryer to properly dry clothes
Failure of dryer to get heated
Bosch Dishwasher Repair
Bosch produces two main types of dishwashers; the built-in and the free-standing dishwashers. The ARS Appliance Repair group are responsible for fixing any challenge that might interfere with the smooth running of your Bosch dishwasher. Your Bosch dishwasher can act up when you least expect. Some of the common faults fixed by the Bosch-approved appliance repair experts are;
Film-coated dishes after washing
Poor drainage
Inability to fill up with water
Damaged timer
Faulty digital display
Faulty timer
Low water temperatures
Bosch Oven Repair
The Bosch cooking and baking appliance comprise of appliances such as cookers, ovens, hobs, microwaves, cooker hoods, warming drawers, and freestanding cookers. The ARS Bosch Appliance Repair technicians handle any issues that might prevent you from using your Bosch cooking and baking appliances comfortably. Some of the difficult situations that can be repaired by our renowned appliance repair group experts;
Leaking of gas
Fluctuating temperatures
Poor functioning of the burners
Destroyed heating elements
Damaged heating elements
Failure of oven to ignite
Bosch appliance enthusiast based in London, Ontario, should feel free to give our customer care representatives a call if any of their appliance malfunctions.
Call Our Bosch Appliance Repair Technicians Today!
Our technicians at ARS, are experts in Bosch Appliance Repair. We serve London, Ontario, and surrounding areas. If you need to fix your broken Bosch Appliances and you are in London, St. Thomas, South Perth, Melbourne, Aylmer, Lucan or Woodstock. Contact us so we can diagnose your broken Bosch Appliance and provide you with the best appliance repair with same day service, 24/7 emergency support and a 3 month warranty.
Read our reviews on HomeStars, like us on Facebook and don't forget to share this page, just click on one of the links below.
👇