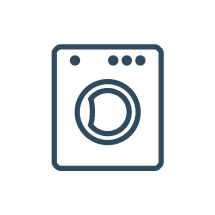 Dryer Repair Service
The Best Appliance Repair in London and GTA for Dryers & Parts.
Warranty on Parts & Labor
100% Customer Satisfaction
Dryer Repair
---
Is your trusty dryer giving you trouble? For Broken Dryer repair, don't hesitate to reach out to ARS Appliance Repair Service London at 226-271-4937. We even offer a Free Service Call with Repair!
 At Appliance Repair Service London, we approach dryer repairs with expertise and enthusiasm. Before considering an expensive replacement, it's worth exploring the cost-effective option of dryer repair. Our insured technicians boast years of experience, and you'll be pleased to know that most dryer repairs fall on the budget-friendly side.
 Common dryer problems include switch failures and faulty heating elements. These issues are well within our scope of expertise, and repairing them is considerably more economical than investing in a new appliance. Regardless of your dryer's brand or model, we're equipped to tackle the job efficiently, catering to both major and minor brands. Our transparency extends to explaining the repairs undertaken, ensuring you understand the steps taken to revive your dryer's functionality. You can trust us to optimize your dryer's performance, addressing issues before they escalate beyond control.
 Furthermore, following your dryer's repair, we proactively maintain contact to confirm its restored functionality. Our commitment revolves around pre-empting issues and safeguarding both your time and finances. We're dedicated to fulfilling our promise without resorting to shortcuts, emphasizing our reliability. In just a few words, we're the experts you can rely on to keep your appliances running smoothly.
 If you need top-tier dryer repair services in London, look no further. Contact our friendly customer support professionals at 226-271-4937 to schedule an appointment. Let us demonstrate our expertise in dryer repairs, ensuring your appliance operates optimally, efficiently, and cost-effectively.
 Are you experiencing anything of these problems? 
No Heat:

Dryer has no heat and leaving clothes damp.

Overheating:

The dryer becomes excessively hot, posing a safety risk.

Noisy Operation:

Unusual sounds during operation indicate potential issues.

Drum Not Turning:

The drum doesn't rotate, preventing proper drying.

Long Drying Times:

Clothes take too long to dry, indicating inefficiency.

Clothes Not Drying Properly:

Clothes remain damp or partially dried after a full cycle.

Burning Smell:

A burning odor may signal overheating or other problems.

Inconsistent Temperatures:

Fluctuating temperatures lead to uneven drying.

Electrical Issues:

Problems like tripped breakers or damaged cords affect functionality.

Control Panel Problems:

Malfunctions in the control panel disrupt operation.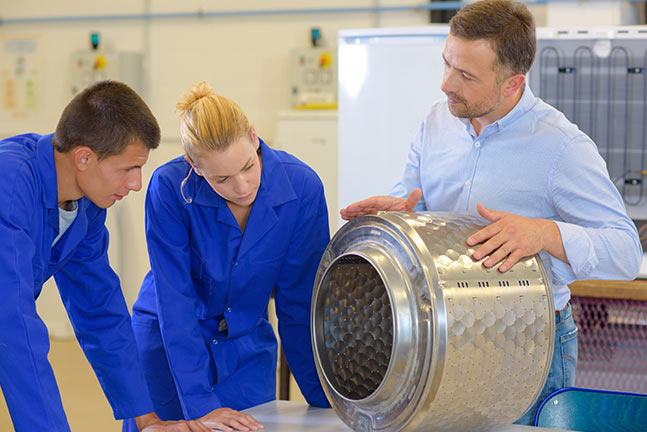 It is said that there is nothing new in the face of the earth, trust us, we have encountered every imaginable kind of problem in dryers, and we have successfully resolved them all. As your go-to experts for all your appliance repair needs, we prioritize ongoing training for our technicians, ensuring we stay at the forefront of the industry.
Streamline your dryer repair and maintenance with the convenience of our user-friendly online scheduling system. For comprehensive information about our outstanding dryer repair service, don't hesitate to contact our knowledgeable customer support professionals at 226-271-4937. We eagerly anticipate the opportunity to address issues with your dryer.
Dryers are built from crucial components, including the motor, heater, blower, timer, and more. These integral parts are essential for a trouble-free dryer operation. However, it's not uncommon for dryers to experience breakdowns, leading to issues like heating problems, tumbling or spinning failures, extended drying times, clothes remaining damp after a cycle, venting obstructions, faulty fuses, or a malfunctioning timer. The good news is that we're capable of repairing all these problems promptly and affordably.
If you'd like to reach out to our skilled repair team, feel free to call us at any time. We're more than happy to provide efficient solutions for your appliance repair needs!
Common Dryer Problems We Fix:
Ripped Belt or Pulley:

A damaged belt or pulley can disrupt dryer operation. If your dryer's belt is torn or the pulley is faulty, our repair service can address the issue effectively, ensuring your dryer's smooth operation.

Not Heating Enough:

If your dryer isn't generating sufficient heat, it can lead to prolonged drying times. We specialize in resolving insufficient heating issues, ensuring your dryer delivers optimal performance, drying clothes thoroughly.

Too Much Heat:

Excessive heat can be a safety concern and may result from various issues. We are well-equipped to address problems related to overheating dryers, guaranteeing safety and efficiency.

No Power:

When your dryer doesn't turn on, it can be due to electrical issues or control problems. We have the expertise to diagnose and resolve power-related problems, getting your dryer back up and running.

Damaged Drum:

A damaged drum can lead to unusual noises or prevent proper drying. We excel at repairing damaged dryer drums, ensuring your appliance functions smoothly.
Dryer Repair London
We seamlessly connect customers with our seasoned team of technicians, specializing in delivering efficient and dependable dryer repairs across London. Over time, dryers can develop issues due to regular usage or mismanagement. Our adept technicians possess the expertise to diagnose and rectify these concerns right in the comfort of your home. Furthermore, they proactively offer preventive advice to mitigate future occurrences. If you seek to reach our repair team, don't hesitate to call us anytime, and we eagerly await your call!
Is your dryer displaying signs of malfunction or damage? In many cases, opting for professional tumble dryer repair in London proves to be a cost-effective alternative to purchasing a new appliance. Our amiable engineering group boasts the specialized knowledge and cutting-edge equipment required to address a wide spectrum of faults. At Appliance Repair Services London, we cater to the repair needs of all major brands, ensuring your appliance's longevity and performance.
Read our reviews on HomeStars, like us on Facebook and don't forget to share this page, just click on one of the links below.
👇
Reviews from Our Customers
Fast and easy service. Thanks!
Prompt communication, work started and finished in time. Great end to end service. Will take services again.
Fast and easy to deal with.. fixed properly
We had an issue with our LG oven - not heating properly. The technician arrived on time, knew exactly what the issue was within 5 minutes and promptly fixed the problem. He was pleasant and knowledgeable and also gave me tips on how to prevent it from happening again. I would strongly recommend this company - very efficient!
ARS repaired our refrigerator. They were very professional and cooperative. They were also helpful in working with the manufacturer in resolving the out of warranty issue. We would like to acknowledge Ghila Birman for her excellent customer service.