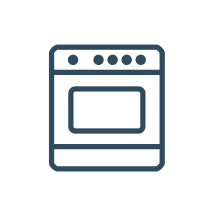 Range & Oven Repair Service
The Best Appliance Repair in London and GTA for Ranges, Ovens & Parts.
Warranty on Parts & Labor
100% Customer Satisfaction
Oven Repair
---
Do you need prompt and reliable oven repair for your Broken Oven? Don't hesitate to contact ARS Appliance Repair Service London at 226-271-4937 for swift assistance. We even offer a Free Service Call with Repair!
When your oven is broken, preparing meals at home can become a real challenge. But you don't need to endure the inconvenience. Entrust the repair job to us, your trusted partner for oven repair. Our local professionals stay up-to-date with training and have access to a vast inventory of repair parts. When you reach out to us, we're here to bring your oven back to life.
Our team comprises factory-trained technicians, licensed to handle oven repairs for all manufacturers. Whether you're dealing with a broken element, issues related to glass or hinges, damaged wiring, compromised seals, or any other oven problem, we possess the knowledge and skills to fix it effectively and efficiently. Your oven repair is our priority, and we strive to restore it promptly. Contact us for Oven Repair.
No matter the make or model of your oven, we have the expertise to address it. We're dedicated to keeping up with the latest oven models on the market. Whether your oven operates on gas, is electric, or uses induction technology, we're well-equipped to deliver top-notch repairs. Leave the diagnosis and repair tasks to our technical specialists, ensuring a hassle-free experience.
Trust ARS Oven Repair Service London for all your oven repair needs. We're committed to making sure your oven is running smoothly, efficiently, and safely. Don't hesitate to reach out to us for expert oven repairs and enjoy the convenience of your home-cooked meals. Contact us for Oven Repair.
Are you having any of these issues?
Faulty Heating Element:

Your oven may not reach or maintain the desired temperature due to a malfunctioning heating element.

Uneven Cooking:

Uneven cooking or baking can occur when there's an issue with the oven's temperature regulation.

Broken Glass or Hinges:

Cracked or damaged oven glass or hinges can impact both safety and cooking performance.

Faulty Wiring:

Electrical issues, such as damaged or frayed wiring, can lead to power problems or even safety concerns.

Ineffective Seals:

Damaged or worn-out door seals can result in heat loss and inefficient cooking.

Oven Won't Turn On

: If your oven won't power up, it can be due to various electrical or control board issues.

Inaccurate Temperature Control:

An oven that can't maintain consistent temperatures can lead to undercooked or overcooked dishes.

Strange Noises:

Unusual sounds during operation may indicate mechanical problems that require attention.

Error Codes:

Modern ovens often display error codes that need to be diagnosed and resolved.

Self-Cleaning Problems:

Issues can arise during the self-cleaning cycle, including excessive smoke or temperature irregularities.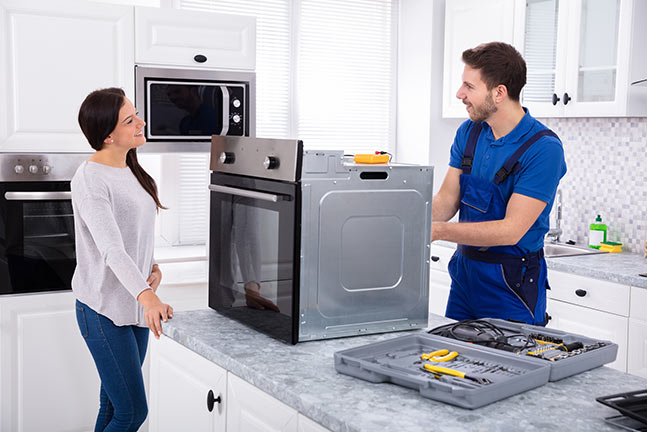 Where else would you encounter a technician dedicated to your satisfaction and making post-repair follow-ups a standard practice? At Appliance Repair Service London, we go the extra mile with our routine follow-ups. Our commitment is deeply rooted in ensuring your contentment – that your appliance delivers top-tier performance. We take immense pride in our dedication to 100% customer satisfaction, and this commitment is the driving force behind all our endeavors. It's worth noting that we exclusively utilize authentic replacement parts, ensuring the longevity of your repairs.
With over a decade of profound experience in the industry, and a leadership role within it, we've successfully addressed an extensive range of oven issues. Our mission revolves around making problems vanish with precision and speed. Backed by access to a vast inventory of repair parts, we have the prowess to eliminate issues efficiently. When we arrive, we come well-prepared, carrying an array of parts that enable us to resolve your problems right before your eyes. Our commitment extends to setting new benchmarks in repair turnaround time.
Take the initiative and schedule your oven repair appointment using our user-friendly online system, or feel free to give us a call. For comprehensive information about our oven repair services reach out to our knowledgeable and friendly customer support professionals at 226-271-4937. Allow us to guide you through our dedicated oven repair service, aimed at ensuring the longevity and efficiency of your appliance. Contact us for Oven Repair.
Common Oven and Stove Repair Issues:
Oven is on but won't heat up:

If your oven isn't heating up, it can disrupt your cooking plans. We specialize in oven heating issues, ensuring your appliance warms up efficiently.

Broil or Bake element needs replacing

: Problems with the broil or bake elements can result in uneven cooking. We're well-equipped to replace oven elements, guaranteeing even cooking.

Food doesn't cook right in oven – Burns or won't cook at all:

If your oven isn't cooking food properly, it can lead to burnt or undercooked meals. Our experts excel at oven cooking issues.

Self-Cleaning feature not working:

A malfunctioning self-cleaning feature can be a real hassle. We specialize in repairing self-cleaning ovens, ensuring they work as intended.

Oven light burnt out:

If your oven light has burnt out, it can be inconvenient when monitoring your dishes. We can replace oven lights, restoring visibility.

Touch pad or control buttons no longer working:

Issues with oven control buttons or touchpad can disrupt your cooking process. We offer repair services for oven controls, ensuring they work seamlessly.
There's no one better qualified to carry out your oven repair than us, London's leading appliance repair specialist for the last decade. We prioritize genuine manufacturer parts and highly trained technicians, ensuring a high first-time fix rate that many other companies can't match.
We provide 24/7 service all over London, combining the best prices with top-quality service. We believe you'll find no better choice for an expert oven repairer in London. For all your stove repair needs, Contact us for Oven Repair.
Read our reviews on HomeStars, like us on Facebook and don't forget to share this page, just click on one of the links below.
👇
Reviews from Our Customers
Fast and easy service. Thanks!
Prompt communication, work started and finished in time. Great end to end service. Will take services again.
Fast and easy to deal with.. fixed properly
We had an issue with our LG oven - not heating properly. The technician arrived on time, knew exactly what the issue was within 5 minutes and promptly fixed the problem. He was pleasant and knowledgeable and also gave me tips on how to prevent it from happening again. I would strongly recommend this company - very efficient!
ARS repaired our refrigerator. They were very professional and cooperative. They were also helpful in working with the manufacturer in resolving the out of warranty issue. We would like to acknowledge Ghila Birman for her excellent customer service.