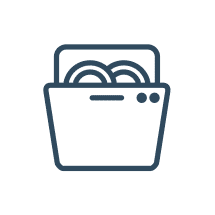 Dishwasher Repair Service
The Best Appliance Repair in London and GTA for Dishwashers & Parts.
Warranty on Parts & Labor
100% Customer Satisfaction
Dishwasher Repair
---
Appliance Repair Service London is your trusted destination for top-notch dishwasher repair. We proudly handle repairs for all makes and models of dishwashers, ensuring you save both time and money. Before contemplating a hefty investment in a new dishwasher, allow us to assess whether a more cost-effective repair is possible. Our skilled and insured technicians bring years of experience to every repair, assuring you that most dishwasher issues are common and can be resolved without breaking the bank.
 Some of the most frequently encountered problems in the world of dishwashers include switch failures and clogged lines. These issues are not only easy to fix but also budget-friendly compared to replacing your entire appliance. Regardless of your dishwasher's make or model, we have the expertise to address any concern. We cover a wide range of dishwasher brands, both major and minor. We're more than happy to provide you with a detailed explanation of the repairs conducted to revive your dishwasher.
 Our commitment extends beyond addressing existing issues; we also specialize in preventive maintenance to stop problems before they occur. This not only saves you time but also money in the long run. Our goal is to optimize your dishwasher's performance while keeping costs low. We stay current with all the latest dishwasher models in the market, ensuring we never take shortcuts and always deliver on our promises. You can rely on our team, a team of action, not words.
 Trust Appliance Repair Service London for all your dishwasher repair needs, ensuring your appliance runs smoothly and efficiently. Contact us today to experience the difference.
 Dishwasher issues: 
Dishwasher repair:

Our expert technicians specialize in dishwasher repairs, saving you from the expense of buying a new one.

Switch failures:

Common dishwasher issues include switch failures, which we can address effectively.

Clogged lines:

We're skilled at resolving problems like clogged lines in your dishwasher, preventing larger issues.

Preventive maintenance:

We offer preventive maintenance to stop problems before they start, saving you both time and money.

Dishwasher performance:

Our goal is to optimize your dishwasher's performance while keeping costs low, ensuring peak efficiency.
 Contact Appliance Repair Service London today for dependable dishwasher repairs.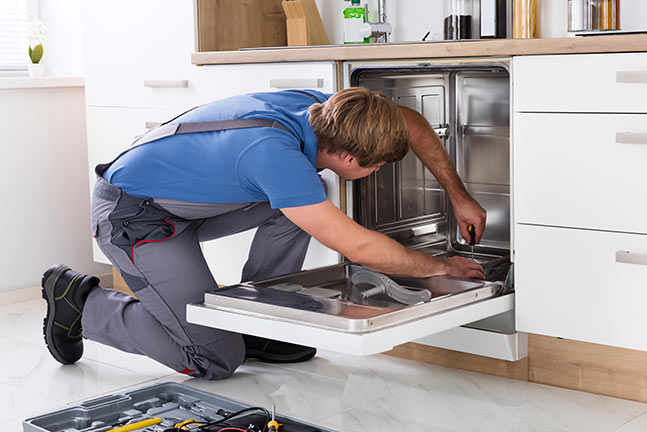 When it comes to dishwasher repair, trust is paramount, and you can have complete confidence in our team. We take pride in our staff's outstanding integrity, built on years of experience handling a wide array of dishwasher problems. Our reputation is second to none, and we go above and beyond to safeguard it.
Simplify your dishwasher repair and maintenance by taking advantage of our user-friendly online scheduling system or by giving us a call. For comprehensive information about our top-tier dishwasher repair service, don't hesitate to reach out to our welcoming customer support experts at (226) 271-4937. We're eager to get your dishwasher back in working order.
If you're in need of dishwasher repair in London, we've got you covered. We connect customers with skilled, local technicians who deliver cost-effective and professional service 24/7. Our dishwasher repair services in Barrie are both efficient and competitively priced. We also extend our expertise to commercial dishwashers, ensuring a high standard of workmanship. All our Barrie dishwasher repairs come with fault testing and a 3-month warranty on labor and parts.
For dishwasher repairs in London, you've come to the right place. Our team is on call around the clock, during weekdays or weekends, days or evenings, ready to promptly resolve your issue.
With years of experience in the field of dishwasher repairs, we offer both efficiency and affordability. Plus, we provide same-day diagnosis and repairs for a variety of common issues. You can trust that we're the experts to call when you need quality dishwasher service.
Many problems can occur with a dishwasher, and we've encountered and resolved them all. Here are some common issues that people often search for:
Broken Door:

A dishwasher door issue can be frustrating. Our technicians are experts at fixing dishwasher doors, ensuring smooth operation.

Draining Clog:

A clogged dishwasher drain can lead to standing water. We specialize in unclogging dishwasher drains, allowing water to flow freely.

Door Seal Leaking:

Dishwasher door seal leaks can result in a messy kitchen. We excel at repairing door seal leaks, preventing water damage.

Slow Draining:

Slow dishwasher draining can be time-consuming. Our team offers efficient solutions to speed up dishwasher drainage.

No Power:

When there's no power to your dishwasher, it's a problem. We can restore power to your dishwasher promptly.

Not Cleaning Enough:

A dishwasher not cleaning dishes properly can be a headache. We specialize in improving dishwasher cleaning performance, leaving your dishes spotless.

Error Codes:

Dishwasher error codes can be perplexing. Our technicians are skilled at diagnosing and resolving dishwasher error codes.

Not Filling:

If your dishwasher isn't filling with water, it's a significant issue. We can repair dishwasher water filling problems, ensuring it functions correctly.

Not Stopping:

A dishwasher that won't stop running can be disruptive. We can fix dishwasher cycle issues, ensuring it stops when it should.
Read our reviews on HomeStars, like us on Facebook and don't forget to share this page, just click on one of the links below.
👇