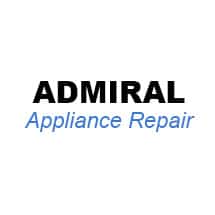 Admiral Appliance Repair In London, Ontario
---
Do you Need Repair for your Broken Admiral Appliance?
topnotch admiral appliance repair in london ontario
Admiral is an avant-garde brand of laundry equipment which are produced in the United States. The brand carries a wide range of cleaning appliances such as washers and dryers to enable users to keep their clothes clean at all times.
The brand takes pride in producing products of great values at an affordable price.
If you are based in London, Ontario, and any of your Admiral devices has malfunctioned, you can reach out to our team of experts at ARS Appliance Repair Service to help you with troubleshooting the problems. These are the main repairs we carry out on Admiral Appliances;
admiral washer repair
The admiral washer is on a league of its own. The upmarket washer comes with many features which makes it a winner in the books of many users. Some of the main features of the washer are;
A wash-action agitator which provides the required wash movement for proper cleaning.
A deep water wash option which enables you to wash a bulk of clothes.
A porcelain tub which is not hard on clothes
A late lid lock which enables you to pile on more clothes before you start a spin cycle.
An extra rinse option which helps to get rid of excess suds.
Multiple wash cycles
A delicate cycle
If your Admiral washer is being an ache in your neck, you can call on us at the ARS Appliance Repair Service to help out. Feel free to call in at any time, so we can solve any washer related problems. The common complications that we solve are;
Low water temperatures
Film-coated dishes after washing
Poor drainage
Inability to fill up with water
Damaged timer
admiral dishwasher repair
The ARS Appliance Repair team are responsible for fixing any challenge that might stop the smooth running of your Admiral dishwasher. When your washer breaks down, it can be quite difficult to wash your clothes. A few of the challenges fixed by our trustworthy appliance repair technicians include;
Failure of the washer to spin
Broken washer door
Leaky ducts
Poor drainage
Leaking of the washer
Inability of the washer to fill properly
Failure to turn on
Loud noise
Failure to run through cycles
Errors on the digital display
admiral dryer repair
The Electric dryer produced by the Admiral brand is produced with 10 cycles to enable users to attain the level of dryness they want for their clothes. It also comes with an Automatic Dryness Control stops overdrying.
One of the reasons why homeowners go for this dryer is because it helps to prevent wrinkling of clothes, thanks to the Wrinkle Prevention Option. Unlike most dryers where you can hardly regulate the temperature control, the Admiral dryer comes with temperature settings to enable you get just the right temperature you need. It also comes with a reversible door that allows you to create enough room for your laundry layout.
If your admiral dryer is being problematic, you might need to bring it in for a quick fix. There might be a fault somewhere that needs to be diagnosed.
We at ARS Appliance Repair Service are responsible for fixing any challenge that might interfere with the smooth running of your Admiral dryer. If your Admiral dryer is giving you problems, you can give us a call at ARS Appliance Repair Service to assist in diagnosing a problem and fixing it. Our upscale admiral-certified company offers solution for faults such as;
Inability of the dryer to properly dry clothes
Poor heating
Strange noise
Inability to start
Damp clothing after a drying cycle
Failure of dryer to get heated
Call Our Admiral Appliance Repair Technicians Today!
We are specialized in Admiral Appliance Repair Service in London, Ontario. Book an appointment today if you are experiencing problems with your Admiral Appliances. We provide the best appliance repair service with 24/7 emergency support and a 3 month warranty.
Read our reviews on HomeStars, like us on Facebook and dont forget to share this page, just click on one of the links below.