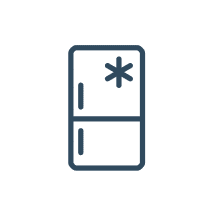 Refrigerator Repair Service
The Best Appliance Repair in London and GTA for Refrigerators & Parts.
Warranty on Parts & Labor
100% Customer Satisfaction
Refrigerator Repair
---
When it comes to appliance repair, the refrigerator is a workhorse, running tirelessly to keep your food fresh. But even the most reliable appliances can encounter issues. The good news is that you don't necessarily need to rush out and buy a new one. Contact us at ARS Appliances Repair Service, and you'll be amazed at how we can breathe new life into your refrigerator.
Whether you own a cutting-edge refrigerator or a trusty older model, our expert team at Appliance Repair Service London is well-equipped to address its repair needs. We specialize in resolving common refrigerator problems that many people face, including issues like malfunctioning switches and pesky clogged defrost drains. The best part? We offer swift solutions at a very affordable cost. No need to consider replacing your refrigerator before reaching out to us.
At ARS Appliances Repair Service London, we comprehend the indispensable role a refrigerator plays in your daily life. Recognizing its significance, we are committed to providing prompt assistance. The moment you get in touch with us, rest assured we'll be at your doorstep in no time. If immediate service is not possible, we'll communicate the estimated arrival time, ensuring you have a clear understanding of when we'll address your refrigerator concerns.
Don't let appliance troubles disrupt your daily routine. Contact ARS Appliances Repair Service London today for expert refrigerator repair solutions that keep your kitchen running smoothly. We're your go-to destination for refrigerator issues, offering quick, cost-effective, and reliable services.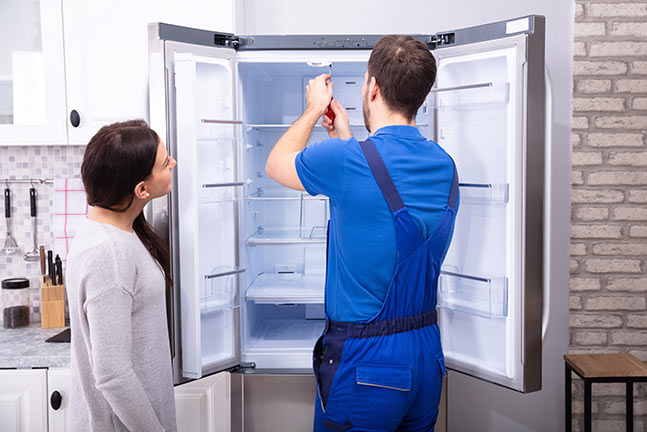 ARS Appliances Repair Service is your trusted partner for efficient and hassle-free refrigerator repair. We understand the importance of a functioning refrigerator, and our team is just a phone call or a click away to ensure your complete satisfaction.
Our technicians are not only licensed and insured but also highly skilled professionals, committed to getting your refrigerator back to its best in the quickest time possible. We take pride in our ability to deliver right the first time, and as a testament to our confidence, we offer property protection and family safety guarantees. Plus, we promise to leave your space spotless, providing a maid-like clean-up if we happen to make any mess.
Your refrigerator is built to last, but occasional breakdowns are inevitable. When your trusty fridge acts up, you need a swift and reliable solution. We offer same-day service in London and have a team of expert technicians who are well-versed in tackling a wide range of refrigerator issues. Whether it's a malfunctioning compressor or any other problem, we're here to help.
To learn more about our exceptional refrigerator repair service, don't hesitate to contact our friendly customer support professionals at 226-271-4937. We look forward to restoring your trust in your appliance and keeping your kitchen running smoothly.
ARS Appliances Repair Service offers comprehensive appliance repair services for a wide range of refrigerator types, including:
Bottom Fridge & Freezers

: If your bottom freezer refrigerator is not keeping your food cool, we have the expertise to diagnose and fix the issue promptly. Whether it's a faulty compressor, thermostat, or cooling system, we've got it covered.

Side by Side Fridge & Freezers

: Side-by-side refrigerators are convenient, but when they malfunction, they can be a hassle. Our skilled technicians are well-versed in handling issues like temperature control problems, ice maker malfunctions, and more.

Freezers

: When your standalone freezer is not freezing properly, it can lead to food spoilage. We specialize in freezer repairs, including issues like defrost problems, compressor failure, or unusual noises.

French Door Refrigerators

: French door refrigerators are known for their stylish design, but they can encounter problems too. If you're facing issues with your French door fridge, such as water leakage or cooling problems, our team is equipped to provide solutions.

Wine Coolers

: Keeping your wines at the right temperature is crucial. If your wine cooler is not maintaining the ideal conditions, we can help. Our technicians are knowledgeable about wine cooler repair, including temperature control issues, vibration problems, and more.
Fridge Repair Issues:
Fridge won't cool

: If your fridge isn't cooling properly, we can diagnose and fix issues like a malfunctioning compressor, thermostat, or cooling system.

Side-by-side fridge issues

: Common issues with side-by-side fridges include temperature control problems and ice maker malfunctions.

Freezer not freezing

: If your freezer isn't freezing correctly, it could be due to defrost problems, compressor failure, or unusual noises.

French door fridge leaking

: French door refrigerators can face problems like water leakage or cooling issues.

Wine cooler problems

: Wine cooler issues may involve temperature control problems and vibrations affecting your wine collection.
Our team of experienced technicians is ready to tackle these problems and more. Contact us at ARS Appliances Repair Service London for swift and effective appliance repair.
No Job is to small for us, we can repair all fridges. If you require refrigerator repair in London, just pick up the phone and call us, we will take care of it from there.
Read our reviews on HomeStars, like us on Facebook and don't forget to share this page, just click on one of the links below.
👇
Reviews from Our Customers
Fast and easy service. Thanks!
Prompt communication, work started and finished in time. Great end to end service. Will take services again.
Fast and easy to deal with.. fixed properly
We had an issue with our LG oven - not heating properly. The technician arrived on time, knew exactly what the issue was within 5 minutes and promptly fixed the problem. He was pleasant and knowledgeable and also gave me tips on how to prevent it from happening again. I would strongly recommend this company - very efficient!
ARS repaired our refrigerator. They were very professional and cooperative. They were also helpful in working with the manufacturer in resolving the out of warranty issue. We would like to acknowledge Ghila Birman for her excellent customer service.