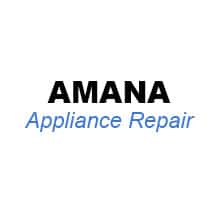 Amana Appliance Repair In London, Ontario
---
Do you Need Repair for your Broken Amana Appliance?
Amana appliances is a household appliance company that produces modernistic appliances from time to time. A few of these high-end products are dryers, ranges, refrigerators, hoods, cooktops, microwaves, and freezers.
London-based owners of Amana products will no longer have to travel long distances to have their devices fixed when there is a fault. Our London-based ARS Appliance Repair Services is available from dusk till dawn to fix your Amana appliances. Here's a list of the repairs we carry out;
Amana Refrigerator Repair
The Amana refrigerators comprise of refrigerator sets which come in different colors, sizes, and shapes. At ARS Appliance Repair Service, we are always within reach to solve any hassles that might interrupt the functions of your Amana refrigerator. These are some of the common problems that are fixed by us;
Compromised Ice dispenser
Faulty lights
Poor draining
Difficulty in defrosting
Poor cooling
Faulty water dispenser
Faulty lights
Poor draining
Amana Dryer Repair
Our London-based ARS Appliance Repair Service is always on board to solve any problem that can affect your Amana Dryer. Some of the situations that can be remedied by the appliance repair specialists are;
Strange noise
Failure to start
Damp clothing after a drying cycle
Poor heating
Amana Washer Repair
Amana Washing machines owned by London-based homeowners (Ontario), can be repaired by our professional technicians. Our ARS Appliance Repair Service group are easy to access; we will diagnose and fix any problem that can affect your Amana washer. The popular issues that are fixed by our appliance repair professionals are;
Failure to washer to power on
Abnormal sound
Failure to run through cycles
Leaking of the washer
Inability of the washer to drain properly
Inability of the washer to fill properly
Errors on the digital display
Amana Range Repair
The topnotch quality Amana Ranges are usually a go-to option for those who want to have different cooking devices in their kitchen. If your range is giving you a headache, we at the ARS Appliance Repair Service organization can step in and gets things smoothened out. The problems that can be fixed by our appliance fixing specialists are;
High temperatures
Clogged flue
Oil cooker problems
Broken enamel
Faulty thermometers
Amana Freezer Repair
Amana freezers help to prevent food from spoilage and save cost. The freezers are produced in a variety of designs and sizes. If you own an Amana Freezer that is having some faults, reach out to us right away, and we will help you fix things. These are the frequent problems that can affect your Amana freezers;
Increased buildup of frost
Faulty freezer door
Accumulated frost on the freezer's coil
Warmth inside the freezer
Abnormal sounds
Poor freezing capabilities
Faulty lights
Amana Dishwasher Repair
If your Amana dishwasher is giving you difficulties, you can invite our group of repair specialists at ARS Appliance Repair Service, to come over for inspection. Feel free to ring us at any time of the day so that we can take up the issue from there. The everyday dishwasher problems we solve are;
Low water temperatures
Film-coated dishes after washing
Poor drainage
Inability to fill up with water
Faulty timer
Amana Microwave Repair
Amana appliance company takes pride in being able to churn out first-rate microwave designs. If your microwave sessions is brought to an abrupt end by any fault, we can assist you. All you have to do is reach out to our appliance repair service; ARS Appliance Repair Service. We will help restore your Amana microwave back to normal. The faults that can be fixed by us are;
Leaking of gas
Fluctuating temperatures
Faulty heating elements
Poor functioning of the burners
Failure of oven to ignite
Call Our Amana Appliance Repair Technicians Today!
Our technicians are authorized and licensed in all Amana Appliance Repair. We are located in GTA (Greater London Area), Arva, Aylmer, Delaware, Dorchester, Dutton, Elgin County, Ilderton, Ingersoll, Komoka, London, Lucan, Melbourne, Mt. Brydges, Oxford County, South Perth, Springfield, St. Marys, St. Thomas, Strathroy, Thorndale, Woodstock and most of Southern Ontario. We are here to help you fix your broken Amana Appliances.
At, ARS, we are specialized in all Amana Appliance Repairs in London, Ontario. Our technicians are experts in Amana appliances to provide you with the best quality appliance repair. Contact us today so we can help you fix your Amana Appliances.
Read our reviews on HomeStars, like us on Facebook and don't forget to share this page, just click on one of the links below.
👇