Warranty on Parts & Labor
100% Customer Satisfaction
Cooktop & Stove Repair
---
If your cook-top is broken, cooking in the house can be very difficult. But you don't have to suffer the inconvenience, give the repair job to us – Appliance Repair Service London. We have a group of qualified technicians who are just a call or click away. Our technicians are factory trained and are licensed to undertake repair work on cook-tops from all manufacturers.
If your cook-top is damaged or is not working as it should, we will repair it for you. Whether it is a broken element, a problem with glass or hinges, damaged wiring, damaged seals, pilot lights not working, or any other problem, we will fix the problem. We make sure your cook-top is repaired quickly and effectively.
We have the expertise and capacity to repair all makes and models of cook-tops. It's our job to know about each of the cook-top models in the market. Whether they are gas, electric or induction, we fix them all. Leave the diagnosis and repair work to us.
After we are done with the repair we are sure to keep in touch to find out if your appliance is actually functioning well. We will stop at nothing in ensuring that your appliance offers peak performance. We know all the shortcuts, but we never take shortcuts, we make promises and we keep them. We are a people of few words, you know you can count on every one of them.
We have seen all kinds of problems with cook-tops. And we have fixed them all. We are not just about cook-top repairs, we take care of all your appliances. When we come to your home or premises, we come armed with parts. This allows us to fix all your problems while you watch. We are setting the new standards in turnaround times – we offer the gold standard.
Schedule a stove repair appointment now using our convenient online scheduling system or call us. For more information about our cook-top repair service, contact our knowledgeable and friendly customer support professionals at (226) 271-4937. Let us walk you through our cook-top repair service.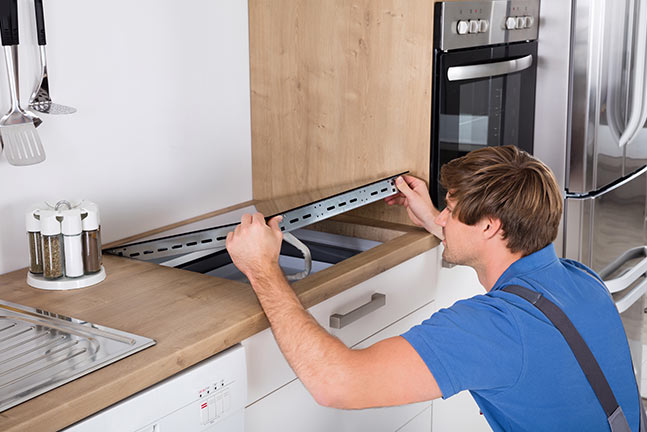 What qualities are needed from the technician for stove repair?
An electric stove is usually quite difficult to self-repair and a common malfunction can be related to issues with the heating element. Because of the potential safety risks it isn't always wise to attempt to complete a repair on the different shapes and sizes of stoves. Understanding the electrical circuits and replacing fuses is not a straightforward process, so it can help to leave the repairs to the professional companies.
By relying on the services of the repair experts it is possible to have the old stoves repaired to a satisfactory standard, which is certain to help with saving a lot of money compared to investing a large sum of money on a brand-new replacement.
When it comes to choosing a reliable service, make sure to invest the time and effort into finding the repair specialists that have built up a solid reputable for providing a high standard of workmanship. Here are some of the issues that related to finding the best stove repair service in the local area:
Affordability
A well-established stove repair service has the ability to offer the low-prices to ensure that you are left paying the lowest amount possible for having the repair work completed. Also, by shopping around for the best deals, you have the potential to get special discounts and offers, such as 10% off the total repair cost.
Experience
Any appliance repair company will have a solid reputation and extensive hands-on experience and knowledge in all aspects of repairing the large commercial to small residential units. By using the company that has the skilled and knowledgeable technicians, there is a better chance of receiving a fast and reliable service. No matter the complicity of the appliance, the well skilled technician shouldn't have much difficulty in solving the faulty issue.
Warranty
Your satisfaction is certain to be guaranteed by those companies that offer a warranty on not only the parts and fixtures, but also on the workmanship. So, if the same problem becomes apparent again in the near-future, the repair service would be willing to fix the fault without making a further charge.
High-quality
A further aspect that makes the worthy service provider's standout is the ability to offer the tailor made services that are specific to each customer. This is certain to help with saving money and time, and ensures the stove is repaired as efficiently as possible and as quickly as possible to match the needs.
Read our reviews on HomeStars, like us on Facebook and don't forget to share this page, just click on one of the links below.
👇